Modern and future societies: The importance of playing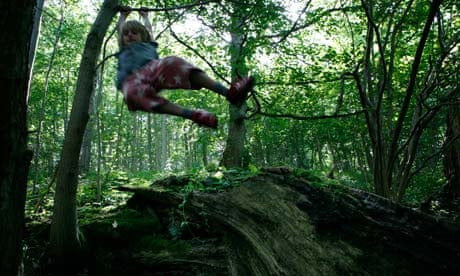 Play is the highest form of research (A.Einstein)
  I live in the 18th arrondissement of Paris: a "quartier populaire" (working-class neighborhood), a crowded neighborhood which describes strongly the idea pointed out by A.Samarakis (1954) that "never in the past had the roofs of our buildings been so close to each other yet never in the past had people been so far away from each other."  In this world that we live in, I believe that the need of building more outdoor "meeting points" is immense. "Meeting points" to discuss, to exchange ideas, to meet new personalities, to develop our skills, to have fun, to learn new things. When I was thinking of the existing places today, I thought of the playgrounds all around the city (not so many though), which are built (mostly) for the children! Playgrounds represent the outdoor "learning spaces" for children that allow free play, that allow them to develop and enrich their emotional, affective, social, psychomotor and intellectual competences. They are for them their special "meeting points".  Many years ago, F.Froebel supported that "Play is this highest expression of human development in childhood, for it alone is the free expression of what is in a child's soul". Under this context, it is necessary to create more and more playful public spaces places around the world which will encourage this act, which will consist learning and accessible spaces for all.
  To start with, it is essential to expand more on several theories which were elaborated throughout the years from specialists (psychologists, educators, philosophers, teachers) concerning the significance of playing from a very young age and its contribution to the development of physical, social, emotional, cognitive and many more skills of an individual.
F.Froebel (1782-1852): He was a German educator, and one of the first people that expressed the opinion that children better learn by doing (experiential approach) and playing, rather than being instructed or taught. He believed that children "imaginative play" should be incorporated into the learning procedure of children as it is strongly linked to their emotional, social, linguistic skills, to their ability to create stories and to develop a problem solving and logical sequential mindset. This play is encouraged when children learn about the world through directly exploring materials they found out in the nature. His work favored the "free-flow play", the kind of play that children immerse themselves fully and take pleasure out of playing.
M.Montessori (1870-1952): Unlike Froebel, Montessori believed that "imaginative play" was not a useful method for children to learn. She believed in a structured material environment, in order and with a learning purpose, rather than a "purely" natural environment. According to her approach, in all activities for children, their cognitive development is utterly linked with the movement of the bodies. It is what is called today from researchers "embodied cognition", the idea that the body influences the mind.
J.Piaget (1896-1980): He was a Swiss developmental psychologist and philosopher, known for his theory that play works as an assimilation and acknowledgment process for children and allows them to practice things they had previously learned. Upon his theory, children, when acting as active learners, construct an understanding of the world around them, by contrasting the concepts that they already know with the ones that they discover in their environments. He believed that certain information and concepts have to be taught to children, always depending on their biological maturation and their different stages of cognitive development. Nevertheless, his ideas on what is called "discovery learning" – the idea that children learn best through doing and actively exploring – were later used in the education field for understanding and communicating with children in classrooms.
L.Vygotsky (1896-1934): He was a Russian psychologist who fully argued that through playing and more specifically through experiential play children are able to develop their cognitive development. According to his theory, by playing, children can develop their thinking, formulate opinions, learn new things, adopt in an everchanging world. In short, he believed that play facilitates the child's mental development such as thinking, language and reasoning while at the same time it promotes social interactions with others (peers, parents, educators).
  Based on the aforementioned theories, it is vital to draw attention to the significance of the playgrounds in the big cities as "breaths of life" in busy neighborhoods, as rays of sunshine in these harsh times, as opportunities to support children's cognitive development outdoors. After all, those playscapes and parks represent our only exposure to a natural (green) environment when we are citizens of urban areas. First of all, outdoor playing enhances the gross and fine motor skills of a child. To illustrate this idea, when children play in a playground, they can reach, grasp, run, crawl, climb, fell, balance and these can much improve their physical skills. Then again, living with your family in small apartments in big cities can not offer the chance to do so. Equally important for the physical development is that playing in fresh air improves the immunity system of a child, and this gives him the advantage of becoming a healthy and strong learner in the future. Furthermore, as far as the emotional skills are concerned, outdoor playing brings fun and enjoyment to a child, while he has the chance to explore the world around him in an absolutely multisensory environment. The idea of moving around, discovering and creating outside helps him on releasing energy and expressing himself freely. By this opportunity, the child improves his self-confidence and self-expression skills. In addition, playing in places such as playgrounds gives the opportunity to a child to interact socially with his peers -individuals he knows or not-, to move towards a collaborative way of learning. It is important to mention that communication (verbal or nonverbal) and social play with his peers strengthens his emotional intelligence (EQ) from a very young age. Identically, a child learns to cooperate and share with others, a quality that is much appreciated in order to build better and cohesive societies as a future citizen. Since there is no "instruction manual" on how to play outdoors, this open-ended playing has no rules, no winners and no losers and this is an ideal way to work together as a team. Lastly, intellectual skills are uniquely developed in an outdoor environment where the child is able to be creative, imaginative and to work on his problem solving techniques. According to R.Moore, an expert in the design of play and learning environments, "Natural spaces and materials stimulate children's limitless imagination and serve as the medium of inventiveness and creativity."
  In modern societies, there are several people who identified the facts mentioned above, who support  enormously the value of playing by which cognitive development is effectuated, who devoted their work and developed initiatives around the propagation of the philosophy of playing while creating playful experiences and environments for children. In this paragraph, I will point out three initiatives that I recognized as inspiring and promising examples for the future of the realm of learning through playing.
a. Community gardens (Jardins partagés): They are green spaces which are cultivated and run by the local community/association of a neighborhood. This idea has been vividly developed in France since the beginning of the 1990s. These are convivial places around neighborhoods where people can share their interest in gardening and they usually include a playscape and propose environmental activities to children. Children by hands-on experience with nature, they learn about biodiversity conservation and ecological sustainability through environmental education. There are numerous benefits for the children, especially one who is growing up in an urban, stuffy area. Through a garden-based learning like the one proposed by this initiative, children can enhance their fine motor skills, for example when they plant seeds, picking up flowers. At the same time, they develop their gross motor skills while they are digging at the ground and watering the plants. Moreover, creating with a community a participative garden gives the opportunity to children to work and collaborate with their parents, educators and peers in a common goal. By this, they develop not only their social skills but also their emotional competences as they feel motivated and get pride in what they do by respecting their environment; skills that foster their sense of community and their citizenship attitude highly helpful for later in their future.
b. Refugee playgrounds: The idea of this initiative is to build playgrounds in refugees camp as an emergency response for refugee children to exercise their right to play, their right to education. Until now, this idea has seen the light of day in refugee camp in Lebanon, in Kurdistan, in Jordan. Recently, a community of play experts and social activists from around the world launched a crowdfunding campaign so as to build a similar playground at a refugee camp in Munich, Germany. Refugee playgrounds aim to provide a much needed relief in weary populations from disadvantaged backgrounds. Children's youth has been stalled because of unfortunate events in their life, in their homelands. Playgrounds can support their interaction and socialization with their peers. They can also help them to build their self confidence and their interpersonal skills while they learn to experience and express their emotions. In addition, since in refugee camps they live people from diverse backgrounds, these playgrounds seem as an opportunity to develop their cross-cultural skills, to communicate and to develop the respect and acceptance of self and others. I truly believe that these kind of playgrounds have much to offer to refugee children in a way to empower them, to help them build their trust again for the world around them and to develop their life skills (positive thinking, problem solving, management).
c. Playground Ιdeas: This is a worldwide community of educators, designers, play advocates, makers who create, build and provide help to people on how to build their own customized playgrounds through collaboration in their local communities. There is a rich source in their website for online open-source designs, tutorials, materials, all totally accessible and completely free for all. Correspondingly, this initiative is an added value to the learning by playing approach but in a very different way. By one has access to all these materials, it's easier for him to transform an empty place into a playful experience for all. This empowers individuals to fabricate do-it-yourself playgrounds, to acquire adaptive skills while at the same time they collaborate with their local community. It is an enjoyable activity both for adults and children. Furthermore, the ideas proposed to install a playground in any place in the world include principally recycled, reused materials. In this aspect, playgrounds become places which raise awareness towards an ecological and sustainable way of living. All things mentioned above cultivate a collective knowledge of self-efficacy and self-sufficiency and stimulate the levels of cognitive development of people involved.
  Playgrounds are a vital component in our societies, they are zones which enhance the wellbeing of its citizens. They represent the more engaging places that urge the necessity of free play, mainly in the urban environments. By exposing a few theories already developed around playing and the advantages of playing for the learning and cognitive skills of an individual, this article represents an effort to propagate the fundamental of the education in a future knowledge based society, the one that allows learners to participate in the creation of new knowledge as a normal part of their lives. In this context, by referring to some of the current initiatives around the world that enable connections between ideation and realization of projects, examples are given on how independent learning can be transformed into a collaborative one and into useful practices. All in all, in any case it is compelling to safeguard, sustain, ameliorate and construct learning environments such as playgrounds in order to evolve the individual cognitive stimulation and the collective knowledge. And taking actions like these after all could be our endowment for the future generations!
Bibliography:
---